2019 Hyundai Santa Fe XL in Stephenville Granbury Fort Worth TX Dealer.
Mike Brown Hyundai is the Dealership near me to get the best deals on the 3-row 2019 Hyundai Santa Fe XL.
How much does a new 2019 Hyundai Santa Fe XL cost?
Starting Price MSRP Is Only:
$30,850!
*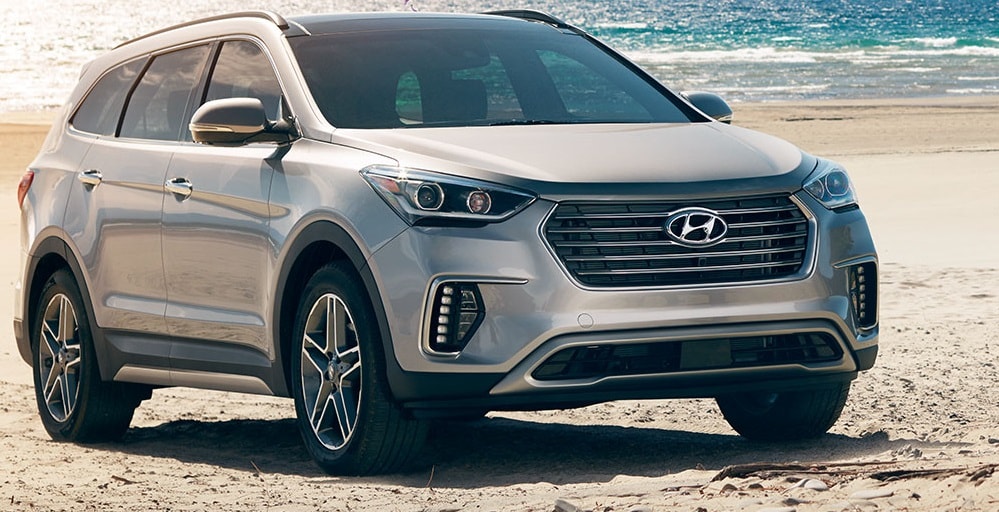 This is the all-new 2019 Hyundai Santa Fe XL 3-row in Stephenville Granbury Fort Worth TX! Hyundai took the already famous and proven Santa Fe, then made it bigger and better by including a functional 3-rd row seat and still room to spare. Advanced technologies, state of the art design, comfortable ride, powerful yet efficient engine, everything you are looking for in a 3-row SUV  all for an affordable price. This amazing new vehicle has the looks, talks the talk, and walks the walk. This page is designed to go all around the vehicle, inside and out to help you learn all about it so you can make an informed decision on if this is the vehicle for you or not. If you like what you see here, we have inventory buttons at both the top and bottom of the page so you can see what we have available in stock today. Continue down the page to learn more about the 3-row SUV that is taking the import industry by storm.

2019 Hyundai Santa Fe XL 3-row in Stephenville Granbury Fort Worth TX has one well-rounded and impressive interior. The vehicle does come with a premium cloth standard, but the first trim line upgrade you get leather right away so that you can get the comfort and feel you desire and still have an affordable vehicle that wont break the bank. elegant trim is strategically placed within, satin silver accents are intelligently placed to give the upscale feel of a luxury vehicle, but not so much as to look tacky or forced. Seats are designed for comfort, boslters hug your body to keep you snug and secure while at the same time providing a comfortable support system. The technological features are plentiful as you can see in the image above, and last but not least there is tons of room.



2019 Hyundai Santa Fe XL 3-row in Stephenville Granbury Fort Worth TX exterior is different than the competition. In order to set itself apart, this vehicle hos gone the extra mile to not only look amazing, but perform too. Extensive wind tunnel testing was done to get maximum performance from this vehicles design which will give you better fuel economy, a quieter ride, and allow you to "slice" through the wind providing a more stable feel when controlling this vehicle in heavy wind. There are several wheel designed that come with the vehicle, a polished grille accents the front, and chrome tips top off the exhaust to give the vehicle a complete luxury look while maintaining the functionality.



2019 Hyundai Santa Fe XL 3-row in Stephenville Granbury Fort Worth TX as mentioned before has a "functional" 3-row. what does that mean? One thing you will notice in similar sized vehicles that have 3 rows is that if you try and sit a full sized adult into the back row, they are uncomfortable. Yes they fit, but there is more to a vehicle than "making people fit". Comfort is an important factor and no one wants their knees pushed up into their chests. With this model, that is not the case and even a full sized adult can sit comfortably in the rear seat! When it does come to performance and getting from point A to B, the engine that powers this SUV is a wonderful V6 engine that is able to produce an impressive 290 horsepower and deliver up to 25 MPG at the same time on the highway! The in-city MPG is also pretty good at 18, and that gives you a combined of 21. Not many 3rd row vehicles can claim those kind of numbers and not one SUV that has a comfortable 3-rd row, like the XL, can come close to those numbers. You want the best of both worlds...then you get it here and now with the XL.


2019 Hyundai Santa Fe XL 3-row in Stephenville Granbury Fort Worth TX comes with 2 different trim lines: SE, Limited Ultimate (shown above with the SE on the left and Ultimate on the right). In actuality, they should really be called: "Lots of stuff" and "everything" trim lines! There really is no wrong choice here on the XL, you really just pick what is important to you and we make it work for you financially. As you can see above, each trim line is well equipped.  The SE allows for stand alone features to be added to sort of "build" your perfect Santa Fe and the ultimate just comes with it all.  At this point, you really just have to decide what you desire in your vehicle! We would like to invite you down for a obligation free visit to experience this great vehicle for yourself in a no pressure environment. we are here to help and inform you, that is all. When you are ready to buy we will be more than happy to get the price to your comfort zone and even help you get financed! We are a one-stop-shop for all your Hyundai needs and want to take care of you like you are one of our own family members. It is the Mike Brown Hyundai way. Come in today and find out how it feels to be treated with respect and like a human being that we really do care about...and not just another number like you are treated at other dealerships who dont understand that you are important. Come join the Mike Brown Family; we take care of our own and you will be happy you did!


*Prices and details may change at any moment without notice.  This page is for information purposes only and dealer is not responsible for any inaccuracies. See dealer for most current, up-to-date information and details.