2019 Hyundai Sonata in Stephenville Granbury Fort Worth TX Dealer.
Mike Brown Hyundai is the Dealership near me to get the best deals on the 2019 Hyundai Sonata.
How much does a new 2019 Hyundai Sonata cost?
Starting Price MSRP Is Only:
$22,300!
*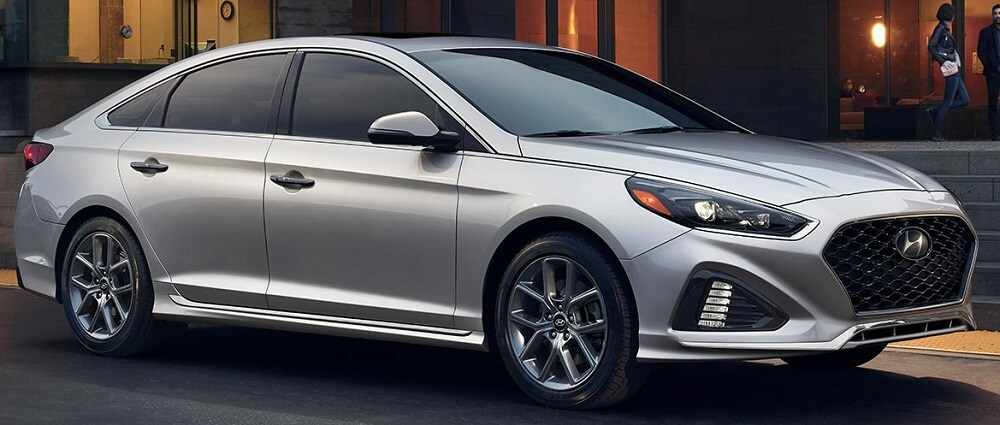 2019 Hyundai Sonata in Stephenville Granbury Fort Worth TX is one great looking, versatile sedan that is able to meet the needs of the many without becoming something only the few can afford. With a total of 4 powertrains, 9 trim lines, a multitude of colors and interiors; you just cant go wrong with this car especially since it has an incredibly low starting price for the standard equipment it offers!  If you are looking for a great, reliable car that is able to satisfy the needs of almost anyone, then the Sonata is for you. This page is designed to help you learn all about this vehicle and broken up into sections for easy readability. This is the introduction, the next section is the interior, followed by the exterior, then gas performance, followed by the hybrid information, then topped off with the trim lines. Continue on to learn more about the great sedan.

2019 Hyundai Sonata in Stephenville Granbury Fort Worth TX has a very inviting inside. Whether you are in the cloth version or you prefer to go up to a trim line with leather available; you are going to love the feel of this car.  It has tons of room, has a solid feel to it, a proper fit and finish, strong steering wheel, and all the technology you could ever desire is available inside! The car has a luxurious design stratagem to provide you with an upscale look and feel but using intelligent, high-quality materials to keep the vehicle affordable. Sexy satin silver accents, elegant dials, available touchscreen interfaces and impressive digital elements throughout help this car stand apart from the rest and really give you a sense of the up-scale quality you desire from your car. The back seat is also intelligently designed to provide room for full sized adults to sit comfortably and you should never hear any complaints on long trips when it comes to interior volume anymore.



2019 Hyundai Sonata in Stephenville Granbury Fort Worth TX has one super-impressive exterior that if you hid the 'H', no one would believe it was not a high-priced European luxury car. Just like the inside, the exterior has taken design cues from the luxury market to bring you the best of both worlds, elegance and affordability. Great wheel designs, sharp lines, sleek curves, advanced lighting systems, and technology to drool over. As you can see for the image above there are subtle design elements that make this car stand out, but in such a way nothing looks out of place and you may even miss a few things. Like for example how the headlight tapers and a design continues the line all the way through very elegantly. You may have missed this at first, but now it has been pointed out you will see it every time and smile that your car has these sort of elements that make it something special!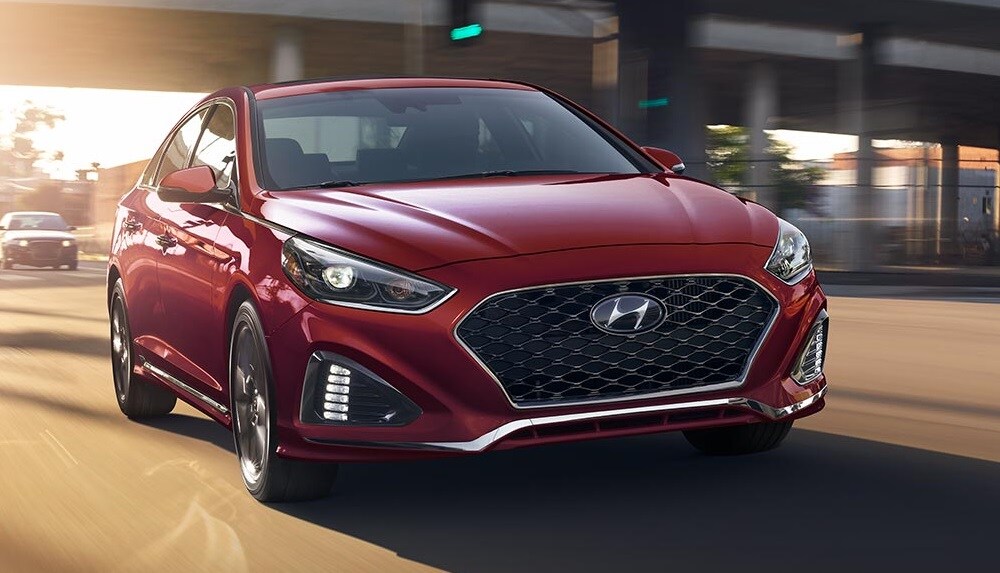 2019 Hyundai Sonata in Stephenville Granbury Fort Worth TX has 2 different gas engines available. A 2.4L I4 and a 2.0L I4 Turbocharged engine.  Depending on the trim line you select, a different engine may be available to you. Of course, as one would expect, The highest trim lines comes with the supercharged engine. Starting with the entry level trim line you get the standard 2.4L I4. It is 185 HP and 178 torque that provides you up to 26/35/29 MPG in the City/Highway/Combined respectively. The bigger most powerful engine available on this car, the 2.0L Twin-scroll Turbo is next. At 245 horsepower and 260 torque, this engine is much more powerful than the previous two. However, you do have to sacrifice something for the power and that of course is the fuel economy. With this engine you are set back to 23/32/26 MPG. The nice thing about it though is that it is still a 4-cylinder engine so even the "worse" numbers really are still pretty good!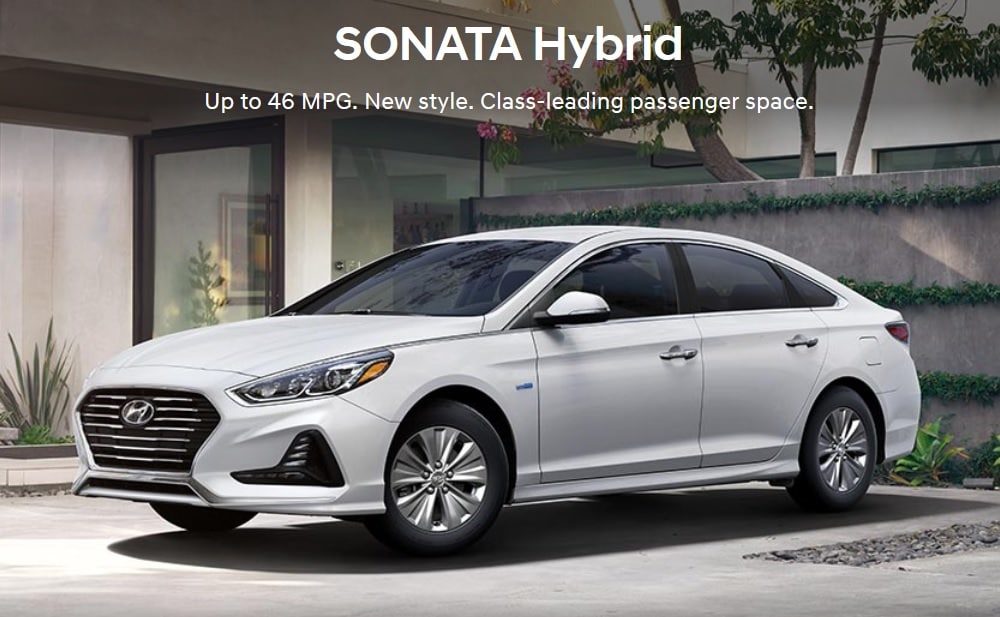 2019 Hyundai Sonata in Stephenville Granbury Fort Worth TX also comes in a hybrid version that is just amazing!  Take all the great things already discussed on this page and add in the hybrid powertrain to make the car even better. With this incredible 2.0L GDI Atkinson cycle Duel Overhead Cam 16-valve I-4 engine paired with a 38 kW Electric Motor with a 270-volt lithium-ion polymer batter you are able to achieve up to 40 MPG city / 46 Highway / 42 Combined! Don't think this car is slow either because you get nearly 200 horsepower with these combined system to get you moving when you need to.

2019 Hyundai Sonata in Stephenville Granbury Fort Worth TX comes in 5 different trim lines for the main gas engine and 2 different trim lines for the hybrid version. Depending on your wants, needs, and desires...there is a trim here that is perfect for you. The image just above this section outlines the highlights of each model to help you select which versions may be ideal for you and your lifestyle. We know this can be daunting with so much to choose from so we would like to make the recommendation of coming down here and visiting with one of our product specialists, hassle free and with no obligation to buy. We will be more than happy to listen to you, what you are using the vehicle for, and help you decided which one may be best for you. We have experienced professionals that have made it their career helping others get into their ideal vehicle and saving them money at the same time. We want you to be another happy customer and will do our very best to ensure that you have all the information you seek and make an informed decision based on your wants and needs. We are only happy when YOU are happy with your purchase, and the only way to do that is to get you in the perfect vehicle. Sometimes even a test drive of one trim line to the other you will experience a whole different feel and experience, so we want you to try all the lines you are considering. 2, 3, even 4 test drives is what it could take to find your perfect one, but we are sure you will agree the time is well spent if it accomplishes just that goal. Drive the different gas engines and drive the hybrid, drive one with cloth and one with leather; you never know which one will speak to you! Again, we offer a no obligation visit hassle free so you can get the information you seek without feeling "the pressure". Come down to Mike Brown Hyundai and find out how it feels to visit a dealership and be treated like a human being with respect and dignity.  You are more than "just a number" here, you are family!

*Prices and details may change at any moment without notice.  This page is for information purposes only and dealer is not responsible for any inaccuracies. See dealer for most current, up-to-date information and details.