2019 Hyundai Tucson in Stephenville Granbury Fort Worth TX Dealer.
Mike Brown Hyundai is the Dealership near me to get the best deals on the 2019 Hyundai Tucson.
How much does the brand-new 2019 Hyundai Tucson cost?
Starting Price MSRP Is Only:
$24,650!
*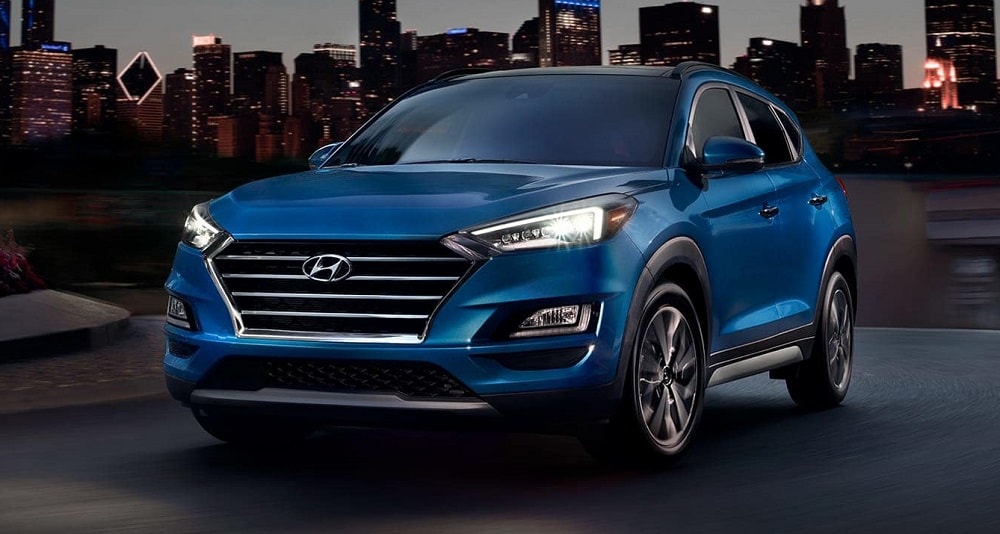 The brand-new redesigned 2019 Hyundai Tucson in Stephenville Granbury Fort Worth TX is now here and on the ground ready for delivery today! With a whole new front end, subtle changes around the rest of the exterior, and an all new interior make this already incredible SUV just that much more amazing! This modernized refresh is much anticipated and has been received very well from the auto-shows and the population thus far.  This little SUV is taking the industry by storm and commanding attnetion everywhere it goes. Continue on the page for images of this great vehicle and more information!

Inside 2019 Hyundai Tucson in Stephenville Granbury Fort Worth TX is completely different than the previous year's interior.  The whole top part of the center console has been completely redesigned and updated for you. It is now more than ever tech-centric and tailored to today's advanced technology-driven world. This change was made to cater to the customers of today's world to stay a head of the curve and deliver at the level you need in your life. When you choose the all new 2019 Tucson, you wont be found wanting!  You will see there is ample interior volume (room) for either cargo, luggage, passengers or a combination of those which increases its value even more by being very versatile.  Talking about interior volume, lets go over the dimensions here since we are on the subject matter. Total interior volume of this incredible vehicle is an amazing 133.2 cubic feet of interior volume when not equipped with the panoramic roof (a few inches are lost on the headline to house the window and components.  You get almost a whole 40" of head room in both front and back rows so even tall people will feel comfortable. You get an average of 55" front and back of hip room to accommodate even bigger individuals, and to top it off you get 41.5 inches of leg room in front and 38.2 in the back. So as you can see, it dont matter if you are sitting up front or in the rear of this great SUV, you have plenty of room to be comfortable. Speaking of comfort, you will have loads of it in the seats! Only high quality upholstery is used in the manufacturing of these seats to give you a very pleasant ride even if you choose the cloth versions.

2019 Hyundai Tucson in Stephenville Granbury Fort Worth TX has a stunning exterior that is designed to not only look great, but be functional as well. The vehicle has a big front grille with wide openings to give a bold look while at the same time able to take in more air to keep the components under the hood cool and working as efficiently as possible. advanced lighting systems are implemented within the headlight assembly to provide the best visibility possible, fender flairs around the wheel wells look great giving the SUV a more rugged look while at the same time protects both the paint and vehicle from debris that may be on the road. The wheel designs are very stylish and lightweight, all the lines and curves that caress the body of the vehicle are strategically placed economically to provide improved aerodynamics for optimal fuel efficiency and there is plenty of glass surface to give you the best possible field of vision without looking "too much".  Last, and far from least, the rear roof-line of the vehicle tapers off to give it a sporty look and feel.


The technology level of the 2019 Hyundai Tucson in Stephenville Granbury Fort Worth TX is also quite impressive. There are several models to choose from and each will have their own level of technology available, but some of the highlights of all models we will go over here (some standard, some optional). The entry level center console interface is a 5" color touchscreen! That is right, you get a color touchscreen interface right off the bat with Tuscon, no skimping on the equipment here. There is a 7" and 8" available in higher trims though if you want even more advancement though. Rear-view camera is standard, Power windows/locks, keyless entry, Bluetooth functionality, a USB port and the list goes on. So as you can see, this vehicle is one that keeps you going with all your devices and compliments today's tech savvy world. Some more of the 2019 Hyundai Tucson in Stephenville Granbury Fort Worth TX feature Highlights are as follows:
Forward Collision-Avoidance Assist and Lane Keeping Assist, both standard
Around-view monitor
Smart Cruise Control with stop/start technology
7-inch display audio system with Apple CarPlay™ and Android Auto™ standard

Blue Link® Connected Car System with three years of complimentary Blue Link services
Electronic Parking Brake, standard

Available Qi wireless device charging
These are not all of the features that are on the 2019 Hyundai Tucson in Stephenville Granbury Fort Worth TX, just the highlights. However with that being said, there is more information on the all-new 2019 Hyundai Tucson in Stephenville Granbury Fort Worth TX is coming soon. So check back often to the 2019 Tucson Headquarters here at Mike Brown Hyundai Dealership!
2019 Hyundai Tucson in Stephenville Granbury Fort Worth TX has 6, that's is right count them; 1...2...3...4...5...6 trim lines to choose from! SE, SEL, SEL Plus, Sport, Value, Limited. Each line has its own price point and the range between the entry level to the top tier is only about $8,000. Essentially, each line averages just $1,000 more than the other and you get SO MUCH for that amount it is mind blowing. Above is the major breakdown of the vehicle's trim lines including the engine it comes with. There is one additional package available called the Ultimate Package for Limited that is available. It comes with, High Intensity Discharge (HID) headlights with Dynamic Bending Lighting System (DBLS), Automatic Emergency Braking (AEB) with Pedestrian Detection, Lane Departure Warning (LDW), Rear parking sensors, Panoramic sunroof, Front and rear LED maplights, 4.2-inch color LCD Electroluminescent Gauge Cluster, Ventilated front seats, and Heated rear seats to top it all off. so if you want something basic or you want it all, you can see there is something here for you!

*Prices and details may change at any moment without notice.  This page is for information purposes only and dealer is not responsible for any inaccuracies. See dealer for most current, up-to-date information and details.